MERCEDES-AMG PARTNERSHIP WITH MICHELIN
Crossing borders, exploring new territories, taking the plunge into the unknown – this requires courage and genuine passion.
It's this very passion that drives Mercedes-AMG and Michelin, as innovators in their field, to challenge the status quo and consistently pursue their vision of mobility. It doesn't matter whether it's extraordinary sports cars and performance vehicles or tyres.
AMG Driving Academy & Michelin
Explore your personal limits. Experience fascinating performance. Savour every moment fully. Experience the world of the AMG Driving Academy. An extraordinary community of performance-loving people who live for individuality and share the same passion. The AMG Driving Academy offers ultimate and unique experiences on legendary race tracks, on spectacular routes as well as on snow and ice with Mercedes-AMG vehicles. When you embrace an offer from the AMG Driving Academy, you're going for more than just a trip or a programme: Become a member of the fastest family in the world!

Click here to discover more about the AMG Driving Academy.
MICHELIN | Mercedes-AMG GT Black Series
Mercedes-AMG & Michelin: building the best electric experience
Discover the work made by MICHELIN and Mercedes-AMG to perfect the MICHELIN Pilot Sport EV tyre.
Several months of cooperation to develop a tyre that unlock the full potential of the new Mercedes-AMG EQS, and generate a completely novel driving sensation 100% electric.
MICHELIN x Mercedes-AMG: building the best electric experience ⚡
The continuous quest for ultimate quality and perfection unites the two partners.
Together, we're putting our vision of mobility on the road.
Michelin develops marked tyres for Mercedes-AMG

MO1 - MO2 or MO1-A marked MICHELIN tyres are designed specifically by Michelin engineers in close collaboration with Mercedes-AMG. When it comes to developing high-performance tyres, they use their expertise to select the best technologies and materials as a function of the individual characteristics of each car model, thereby ensuring superior performance and ride comfort, and a truly unique driving experience!
Find out more about marked tyres.
Find the right MICHELIN tyres for your Mercedes-AMG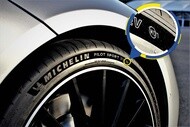 Mercedes-AMG-approved tyres for your vehicle can be purchased from specialist websites and stores
Search by
Address, City or Post Code