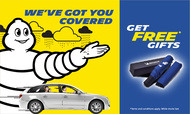 michelin umbrella web banner
Drive with confidence with MICHELIN tyres
Promotion Period : 26 August - 27 September 2020

STEP 2: 
Purchase any of the following eligible products.
Each purchase is entitled to redeem 1 free gift.
STEP 3: 
Collect your free gift upon confirmation of payment
STEP 4: 
Enjoy the superior safety and performance of your new MICHELIN tyres and your free gift.
* Other Terms & Condition applies.